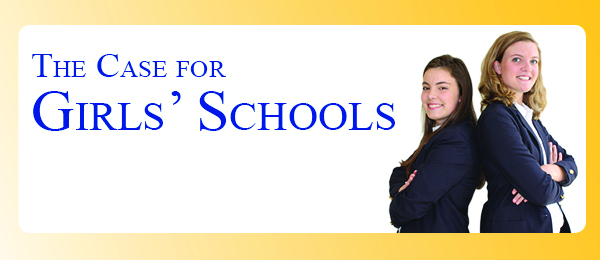 At Notre Dame Academy, it's all about girls! It has been since 1906, when the Sisters of Notre Dame first opened the doors to Notre Dame Academy. Although there was no research to support the value of an all-girls school a century ago, the sisters were keenly aware of the tremendous advantages. Today we have both extensive research and over 100 years of experience to support the countless benefits of girls' schools.
All-girls' schools offer enormous value to their students, value that cannot be duplicated in other school settings. NDA students are empowered to transcend traditional stereotypical roles and they quickly become fearless, curious, and enthusiastic in their learning. At NDA girls are the first ones to raise their hands in class, they are the leaders of the school, and those planning masses and service projects. Every science research student, academic team captain, writer, singer, artist, and athlete is a girl. They are more comfortable being themselves and take pride in who they are as students and young women. At Notre Dame Academy, our students are uniquely prepared to manage leadership positions in society.
Recent research by the National Coalition of Girls' Schools (NCGS) shows unequivocal support for the value of an all-girls educational environment. In particular, students at all-girls schools report:
Having higher aspirations and greater motivation
Being challenged to achieve more
Engaging more actively in the learning process
Participating in activities that prepare them for the world outside of school
Feeling more comfortable being themselves and expressing their ideas
Showing greater gains on core academic and life skills
Being and feeling more supported in their endeavors
In another national study commissioned by the NCGS, the statistically significant edge girls' school graduates have over their coed peers is clear. The report also notes that girls benefit from a single-gender education in the following ways:
Greater academic engagement
Higher SAT scores
Greater interest in graduate school
Higher academic self-confidence
Greater interest in engineering careers
Greater political engagement
The voices of young women are not silenced in the educational environment of an all-girls' school. There is no reason for concern about teachers calling on boys more often than girls. At an all-girls' school, young women learn self-confidence, leadership skills and they excel in the areas of reading, writing, mathematics and science.
At Notre Dame Academy, we strongly believe in the advantages of a single-gender learning environment for young women. While research supports our convictions, we have over 10,000 other reasons for our way of thinking – our graduates. NDA graduates are poised, confident, and prepared for a life of service to others centered in the Catholic faith. They are empowered, loving, and intellectually competent women committed to using their God-given gifts to make a difference in the world.