SND Book Sale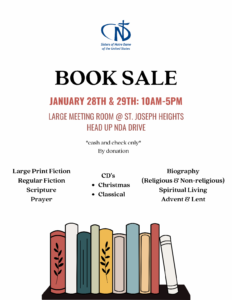 Dual Credit in Northern Kentucky
Day: February 23, Spring 2023
Time: 6p to 8p
Target Audience: Parents of 9th, 10th, and 11th grade students
Location: Steigerwald Hall, Thomas More University's Saints Center
Event Link: https://apply.thomasmore.edu/register/dualcreditinfonight
Agenda:
Welcome

President Chillo, Thomas More University

Event Kick Off (James)

Introductions of DC folks and KHEAA
Housekeeping items and evening layout

KHEAA Presentation (Keith)

Dual-Credit Scholarship for students
How dual credit affects KEES money

Dual-Credit Programs
Presentation on regional dual credit opportunities

Thomas More University (James)
Gateway Community and Technical College (Shelby)
Northern Kentucky University (Kristin/Shelli)

Question and Answer (Everyone)
Mingle with parents/students
Answer questions and concerns about dual credit
Event Description Write up:
Join us for an informative evening centered around your student's excellent local options for dual-credit courses through your high school! During this presentation, you'll hear from KHEAA on scholarship opportunities to pay for dual-credit courses as well as how dual-credit courses can impact your student after high school. You'll also hear from dual-credit representatives from Thomas More, Gateway, and NKU on available dual-credit opportunities. We look forward to meeting you!
Sisters of Notre Dame Ash Wednesday – Day of Recollection
What better time to pause, gather on these beautiful grounds, and spend time at the beginning of the holy season taking stock of where our lives are going.  Sometimes we are very focused and at other times we feel like life has "run away" from us.  On this Ash Wednesday, we will listen, pray, and share ways we nurture a life that is reflective amidst the many demands and obligations of everyday.  Hopefully our time together will fill us with new hope and a growing desire to deepen our relationship with Jesus, those we love, and our world. Journey with us for a day of spiritual inspiration and personal reflection.
2022 Ash Wednesday Day of Recollection Form
Sisters of Notre Dame Hiring
The Sisters of Notre Dame are currently looking for dedicated and reliable students to work at the St. Joseph Heights. This position is part of our Work Study Program where all money earned is applied directly to tuition at Notre Dame Academy.
We're hiring for:
Work Study Dishwasher (Student Opening) – This position is responsible for washing dishes after meals for our beloved Sisters. The hours are after school from 4-7 p.m. and they need someone three days a week.
If interested in this Work Study opening, please complete an application online at this link SNDUSA Employment App (jotform.com), email amcelheney@sndusa.org or drop it off at the Heights as soon as possible.
EdChoice KY
Are you aware of the Education Opportunity Account(EOA) program? Under the program, an eligible family can apply for assistance to cover educational expenses ranging from textbooks, uniforms, transportation, and tutoring, and in certain instances, tuition at non-public schools.These additional resources can help your student not only succeed in the classroom today, but also help them prepare for a bright future ahead. Visit www.educateky.com to learn more about the program and to sign-up for the latest updates. Once the program is available, you will receive an alert on how to apply. Even if you are not currently eligible based on your family income or county of residence, consider signing up for updates anyways. Legislation has been filed to expand the program to more families and being on our email list ensures that you are among the first to know of changes to eligibility. Please reach out to info@edchoiceky.com if you have any questions about this program
Seeking Lower Tuition Payments?
Parishioners of St. Thomas (POST) is a non-profit group based in St. Thomas Parish, Fort Thomas, that provides opportunities to school families to reduce tuition costs or for parish members to meet personal tithing goals by working Reds and Bengals games. Any family member of a Diocese of Covington parish or school is eligible to participate. Training is necessary. For more information, contact Oak Martin at poststthomas@gmail.com.