St. Joseph Heights Work Study Positions
available for Students
The Sisters of Notre Dame are currently looking for dedicated and reliable students to work at the St. Joseph Heights. This position is part of our Work Study Program where all money earned is applied directly to tuition at Notre Dame Academy.

We're hiring for:

Work Study Dishwasher (Student Opening) – This position is responsible for washing dishes after meals for our beloved Sisters.  The hours are after school from 4-7pm and every other weekend working either our morning (9am-2pm) or evening (4-7pm).  
If interested in this Work Study opening, please complete an application online at this link SND USA Employment App (jotform.com), email humanresources@sndky.org or drop it off at the Heights as soon as possible.


Pro-Life Event for Teens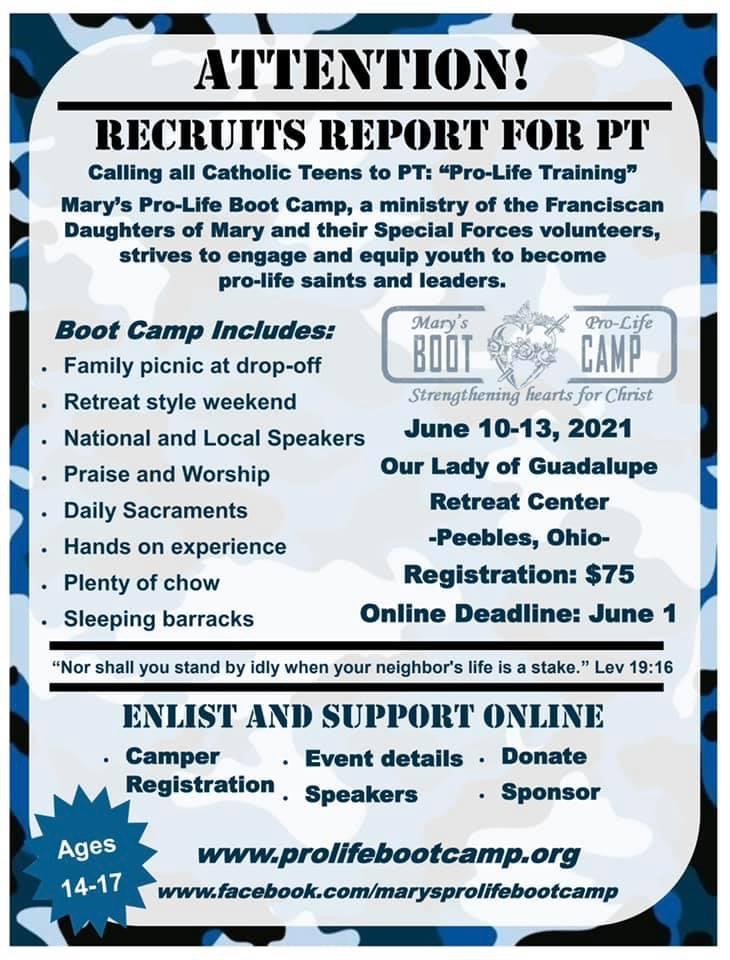 Friday night Pound and Unplugged
Join NDA Percussion Instructor & Band Assistant, Mrs. Julie Geiman, for Friday night Pound and Unplugged during the month of May. These fun events combine social cardio drumming and music social events. All ages invited. Online re-register or pay at the door. Masks required – social distanced.
FLYER

YOUTH DAY ROSARY AND MASS AS FOLLOWS:
OUR LADY'S FARM
11:00 am ROSARY (YOUTH) 5818 HWY. 159N
11:30am MASS FALMOUTH, KY
859-654-2379
SOCIAL DISTANCING, BRING HAND SANITIZER AND MASK IF DESIRED
THIS IS FIRST 1ST. SATURDAY
OUR LADY OF THE MOST HOLY ROSARY, PRAY FOR US.
OUR LADY OF LIGHT, PRAY FOR US.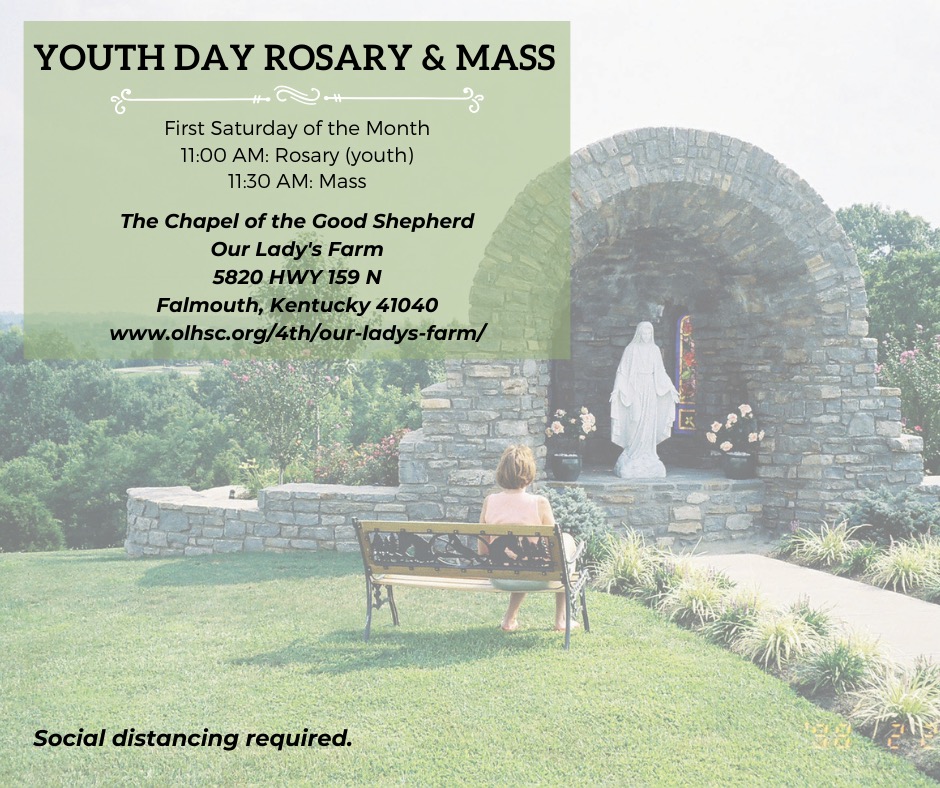 Music and Cross-Curricular Summer Workshops & Course Offerings for Immanuel School of Music
ISM looks forward to sharing the gift of music with our youth! For more information, click HERE.
Seeking Lower Tuition Payments?
Parishioners of Saint Thomas (POST) is a non-profit group that provides opportunities to school families to reduce tuition payments or for parish members to meet personal tithing goals by working Reds and Bengals games. Any family of a Diocese of Covington parish or school is eligible to participate. Training is necessary from either venue. Currently we are looking for anyone interested in working Reds games. Opening Day is April 1!
For more information regarding how to get involved, contact Oak Martin at POSTStThomas@gmail.com.