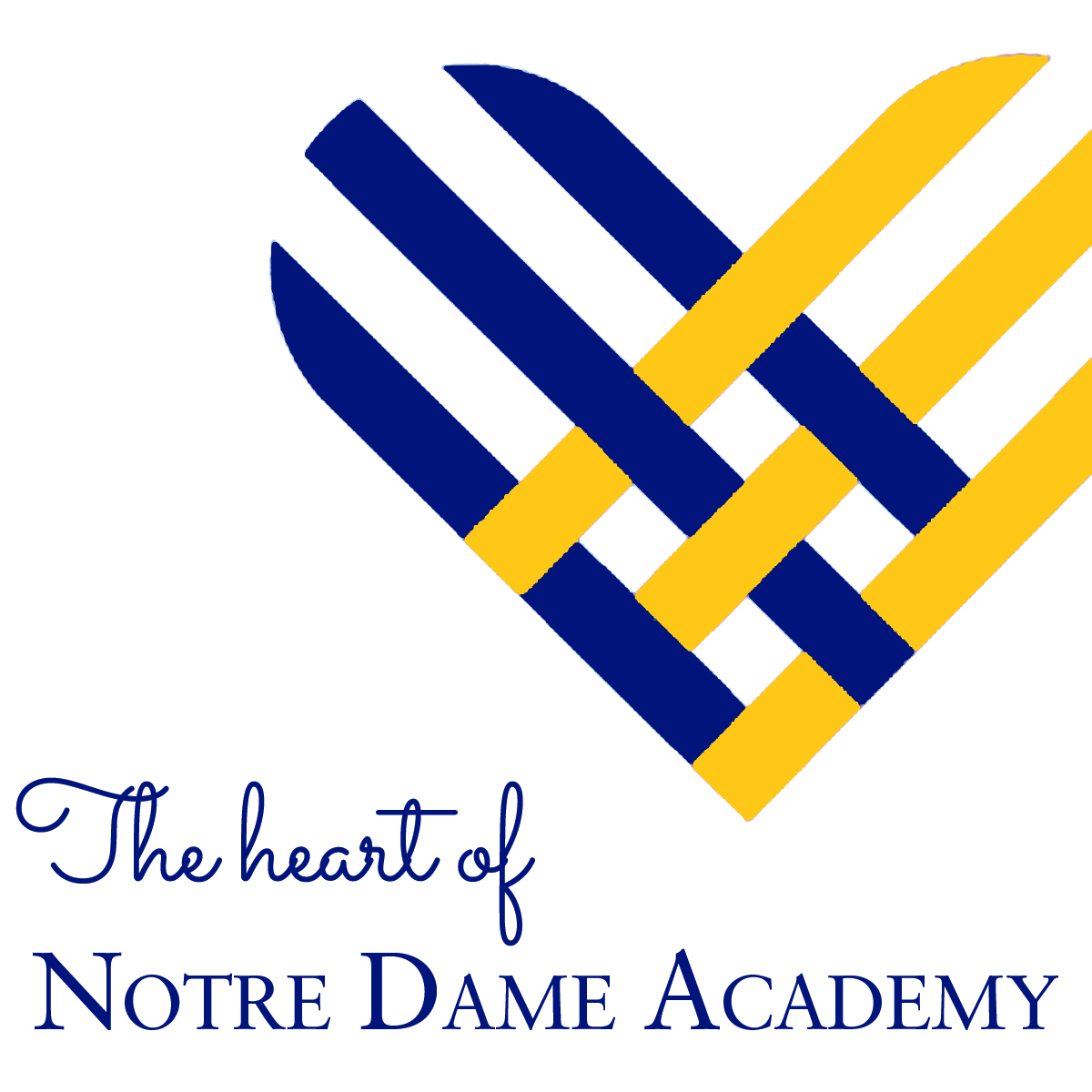 We would like to say thank you to all those in the NDA community who make a difference in the world each and every day. You are the heart of Notre Dame Academy!
Here are a few examples of some of NDA's outstanding female leaders serving our world…
IN PARK HILLS, KENTUCKY
Notre Dame Academy Students
In the weeks leading up to #GivingTuesday, NDA students collected over 6,000 canned goods to donate to those in need this winter. The effort was part of NDA's "CANdamonium" campaign sponsored by our Student Council. The canned goods were donated to St. Vincent dePaul.
Making a difference in the lives of those in need each winter is an annual tradition at Notre Dame Academy. Students have actively engaged in the collection of canned good for the past seven years. Throughout that time they have collected nearly 60,000 canned goods!
IN COVINGTON, KENTUCKY
Lori Mai Eifert '81
Lori Eifert is a 1981 graduate of Notre Dame Academy. After graduating from NDA and working in the business world, Lori took time off to become a stay at home mom to her two children, Ashley and Robert. When Robert was in preschool, Lori fell in love with the atmosphere at James E. Biggs Early Childhood and began to frequently volunteer. Lori was eventually offered a job as a an advocate in the Family Resource Center for the Covington Independent Public Schools. Lori's job was to help families find food, clothing, shelter and employment. Lori describes her work as "the perfect job." In 2008 she was promoted to the Project Home/McKinney-Vento Homeless Education Coordinator. Lori works with children ages 3-24 who are experiencing homelessness and assists in removing any barriers that would keep them from attending and succeeding in school. Last year alone, Lori worked with 684 students that fell within the guidelines of this program. Many of these students were living doubled up with family and friends, living in shelters or uninhabitable places such as cars and parks. Lori stresses the importance of education and encourages all students to seek a higher level of education.
Lori's thoughts for the students of NDA are, "Faith, Family and Education – Live the Gospel empowered by Mary, and serve the less fortunate. We have been blessed to receive an education from Notre Dame Academy. You may not realize it now, but it speaks volumes when you are out in the community talking to people or sharing it on a resume. Be proud to be an NDA student, and give back to your community."
IN EDGEWOOD, KENTUCKY
Amanda Butler Kolar '93
Amanda Butler Kolar is a 1993 graduate of Notre Dame Academy. Amanda attended Miami University for her undergraduate degree and Bowling Green State University where she received her Masters in Fine Arts. After completing her degree Amanda began her teaching career at BGSU, and continued on to Toledo Museum of Art, Columbus Museum of Art, NKU and the College of Mount St. Joseph. Amanda left her college teaching career to teach her three most prized students-her children.

From a very young age Amanda's parents instilled in her the importance of hard work, faith and service. She has carried these qualities with her in her professional and personal life.

Amanda takes time to visit the Rose Garden Home Mission weekly handing out food and items to neighbors in need. She has been fortunate enough to witness countless miracles there. Amanda also volunteers at her children's school where she has to opportunity to teach, pray and make art with the kids while collaborating on art pieces with students grades K-6.
IN PORTLAND, OREGON AND AROUND THE WORLD
Anna Borchers '11
Anna Borchers is a 2011 graduate of Notre Dame Academy. Anna attended Miami University in Oxford, Ohio where she graduated with a double major in Spanish and Latin American Studies and a Masters in Spanish. During her studies, Anna spent time abroad in northern Spain. Her experiences there led her to pursue work abroad post graduation. Anna lived in Spain for an extended period of time, but felt that she needed to experience Latin America in a similar way. Anna applied for the Fulbright grant to become an English Teaching Assistant in Peru. After her acceptance, Anna taught English classes and workshops at La Universidad de Ingenieria y Tecnologia in Lima, working with both students and professors to improve their speaking, listening, reading and writing skills. Outside of school Anna partnered with another organization that works to alleviate poverty and social exclusion in the Andes region through management of natural resources.
After returning to the states, Anna road tripped across the country and has currently landed in Portland, Oregon. She works for XPO Logistics as a consultant. Anna is very excited about where her career will lead her and leaves this advice to current Pandas, "As cheesy as it sounds, I would say to be confident in who you are and aim high. I almost didn't apply for the Fulbright grant because I was under confident and knew other very qualified people who applied and didn't receive the grant. However, I am so glad that I took the risk because it was an amazing experience that also led to many awesome opportunities that I might not have had had I not applied. So in short, be confident in YOU and don't be afraid to do great things!"
IN SOUTH BEND, INDIANA
Kristen Collett-Schmitt '99
Kristen Collett-Schmitt is a 1999 graduate of Notre Dame Academy. Kristen attended Bellarmine University where she studied economics, sociology and planned to attend law school. After a change in career paths, Kristen found herself applying to PhD programs in economics. She attended North Carolina State University in Raleigh, North Carolina on a full scholarship, and five years later began her academic teaching career at the University of Notre Dame, the #2 business school in the nation.

Kristen teaches microeconomics to undergraduate and graduate students as well as conducts research in law and economics and economics education. Kristen applies her research in her classroom where she experiments with how to maintain attention spans in the classroom, develops new and innovative teaching and assessment methods and explores real world applications of economics.
Outside of teaching, Kristen volunteers for the Junior Achievement of Northern Indiana and serves as faculty moderator for the Notre Dame student organization, Moneythink. She has had a very successful career as an educator as she has won seven outstanding teacher awards and was recently named to the Poets and Quants list of Top 40 Undergraduate Business Professors.
Kristen and her husband founded the nonprofit organization "Wishes for Preemies" after losing one of their twin daughters in utero and delivering the other prematurely. "Wishes for Preemies" focuses on providing preemie clothing and necessities to families experiencing premature births. She writes openly about her experience and has had her story published in publications at the University of Notre Dame and the New York Times.
She offers the following advice to current students, "Remember that your success in life is not predetermined. Henry Ford once said, 'If you think you can or you think you can't, you're right.' This life is what you make of it. As my story shows, learning and progress will be and should be hard. Failure is a natural part of the process. But if you surround yourself with the right people, let both intuition and passion be your guide, and always think 'you can,' you will be just fine!"
IN SOUTH CAROLINA and AROUND THE WORLD
Sue Wehrman '81
Sue Wehrman is a 1981 graduate of Notre Dame Academy. She from the College of Mount Saint Joseph where she played basketball and softball and earned a Bachelor of Science in Biology and Chemistry. After graduating, Sue worked for the Department of Labor, Occupational Safety and Health Administration in Cincinnati, Ohio. She then moved to St. Petersburg, FL as the Director of Radiology and Biomedical Engineering, Safety and Regulatory Affairs for BayCare Health System, which was comprised of 13-hospitals. During this time she received her Masters in Business Administration from Florida Metropolitan University.
Sue currently serves as the Global Leadership Strategist at General Electric Power and Water Division. She has worked for GE for 17 years in several progressively challenging roles in areas of account management, audit, manufacturing, environmental safety and health, quality, engineering and global operations. During her time at GE, she completed her Masters in Engineering from Clemson University and traveled the globe.
Sue says, "My education and experience at Notre Dame Academy prepared me for my career and life adventures. I was challenged everyday to push my academic and athletic boundaries while maintaining and building on my Catholic values."
She offers the following advice to current students, "Always be curious about the world and learn constantly. Become comfortable with being uncomfortable, change is always with us, embrace it and be the leader. You do not have any limits in this world….Believe It! Your preparation now, will be the key to opportunities presented to you in the future, don't leave anything on the table. Finally, take your seat at the table, be visible, and be prepared."