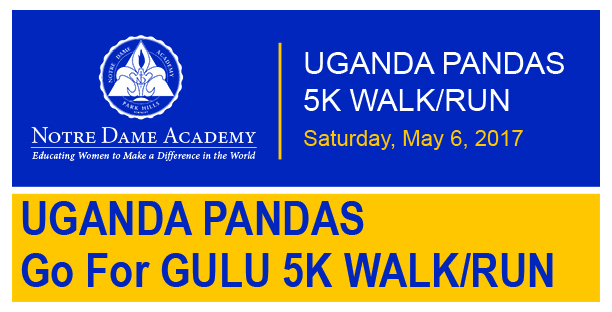 Mark your calendar for Saturday, May 6, 2017!
Notre Dame Academy's Uganda Panda Club is hosting a 5K Walk/Run on NDA's campus at 1699 Hilton Drive in Park Hills, Kentucky. The Walk/Run steps off at 8:30 a.m. for Runners and 8:45 a.m. for Walkers.
The Go For Gulu 5K is benefiting four children sponsored through the Unified for Uganda foundation. The mission of the organization is to provide emotional and financial support for war torn children in northern Uganda. These children face various different setbacks preventing them from achieving academic success such as being orphaned, children being forced to become head of household, HIV Positive, and/or former abductee. Each student, when sponsored, receives a mentor to encourage academic success and behavioral success. Your donation goes to the priceless gift of education. The U4U family believes that every child should have access to education. Thank you for learning more about what this 5k is all about.
The cost of the Walk/Run is $25 per person. Registrations received by April 15 will include a t-shirt.
You can REGISTER ONLINE HERE.
Don't miss this opportunity to make a difference in the world!