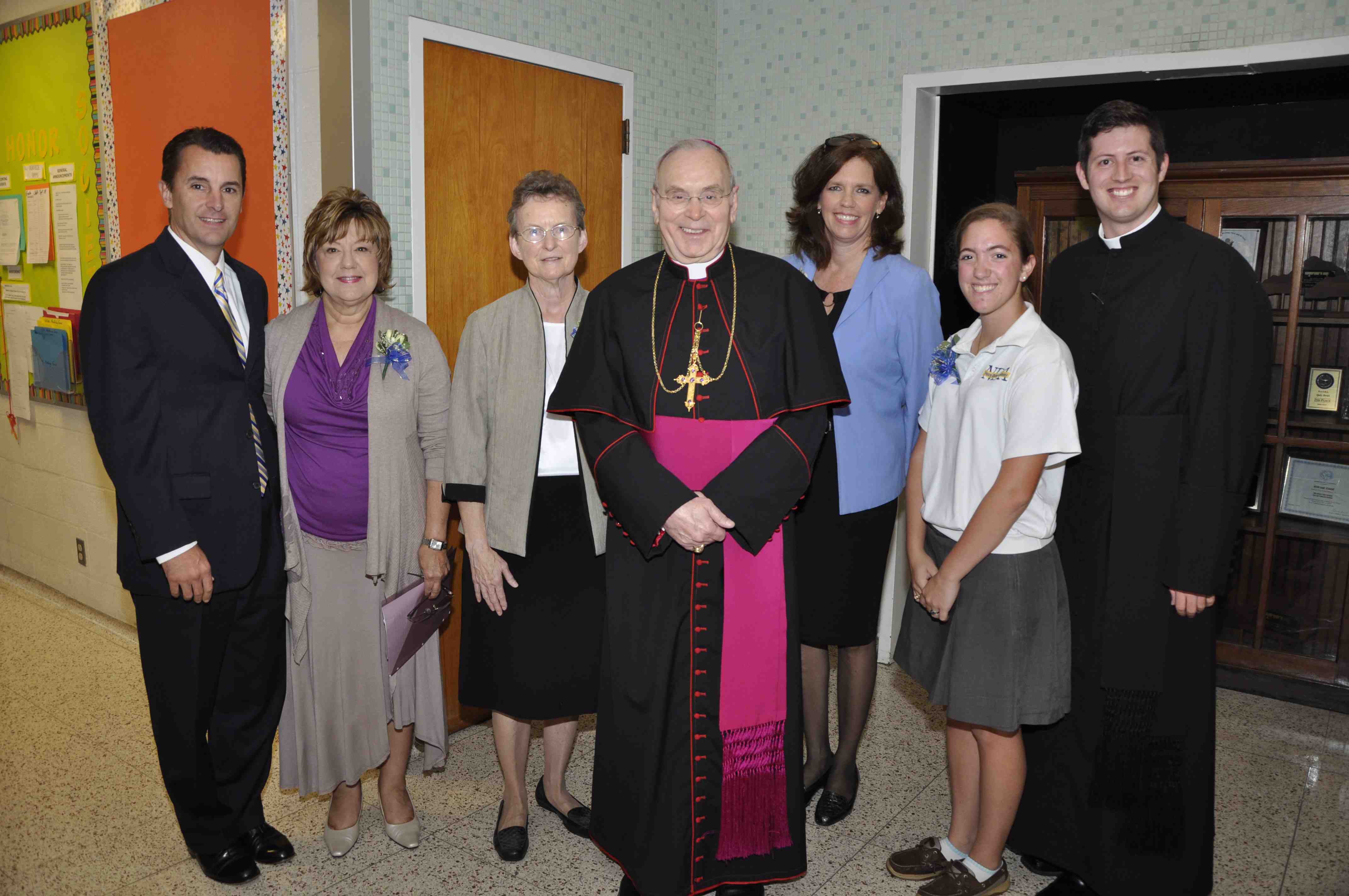 Notre Dame Academy welcomed Most Reverend Bishop Roger Foys and Michael Clines, Superintendent of Schools – Diocese of Covington, to a very moving midmorning prayer service today. The service was in celebration of the NDA's recent designation as a 2012 National Blue Ribbon School of Excellence. Bishop Foys reminded the students, faculty, and administration of Notre Dame Academy of the gift they all have in Catholic education. He also congratulated the NDA community on carrying out the educational vision of the Sisters of Notre Dame.
Senior, Audrey Hehman, represented the students of NDA in her remarks at the prayer service. She told those in attendance, "NDA is such a unique place with so many opportunities. No matter what a student's talent is, Notre Dame gives them the opportunity to flourish. This realization is not only my own, but also that of the US Department of Education in recognizing NDA as a National Blue Ribbon School of Excellence."
Veteran English teacher Linda Bricking also offered a reflection at the prayer service. "What does it mean to teach at Notre Dame Academy in 2012 – to be part of a revered institution that models Christian principals, academic, athletic and artistic excellence, that strives for the highest levels of achievement across the board, that aims to close achievement gaps, embrace multiculturalism, implement cutting edge technologies, and make lifelong learners of students and teachers alike? Well, to me it means affirmation of what I have always known about this school. It enflames the pride I feel about being here for lo, these many years," said Bricking. Everyone in attendance found her remarks to be quite moving especially when students spontaneously joined Bricking in her recitation of an E. E. Cummings poem that she uses in her classes as a prayer each day. The unity of the student voices conveyed a very strong sense of community at Notre Dame Academy.