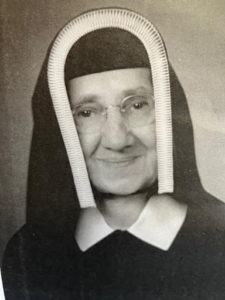 by Nancy Stratman, NDA Archivist
When asked to describe a servant leader, one might hear phrases such as "one dedicated to the needs of others" or "someone who leads by example, not by mandate" or perhaps simply "someone who genuinely cares more for others than themselves." Robert K. Greenleaf coined the term servant-leadership in his groundbreaking 1970 essay, "The Servant as Leader." He defines it as a non-traditional leadership philosophy embedded in a set of behaviors and practices that place the primary emphasis on the well-being of those being served. He identifies the five most prominent characteristics as: valuing people – servant leaders value people for who they are, not just for what they give to the organization; humility – servant leaders do not promote themselves; they put other people first; listening – servant leaders listen receptively and nonjudgmentally and seek first to understand, and then to be understood; trust – servant leaders give trust to others; and caring – servant leaders have people and purpose in their heart and truly care for the people they serve.
Although this concept might have been a "groundbreaking theory" in the 1970s, it was merely the way of life for Sister Mary Agnetis as she took the reins of Notre Dame Academy in 1906. Seeing the value of every person, practicing  the power of humility as a way of daily living, always listening with concern, trusting her students and faculty to do their best and showing through her words and actions the care and love she had for all she met, was simply the way Sr Mary Agnetis lived every single day during her 95 years on earth.
Born in 1879 as Anna Marie Schmitz, she was the 4th in a family which would eventually number 11 children. Her early childhood was spent in the neighborhood surrounding Philadelphia St. in Covington. Baptized at St. John's Church, she attended grades 1-4 at St. Aloysius, after which the family moved "out to the country" and she finished her grade school education at St. Joseph in Cold Springs. Even as a young girl, Anna felt the calling to devote herself to the service of others. After graduating from St. Joseph grade school, she traveled to Cleveland, Ohio and completed her high school education as an aspirant with the Sisters of Notre Dame.
On February 2, 1897, at the age of 17, Anna entered the cloisters of the Sisters of Notre Dame. Later that year, on August 30, she took her holy vows as a novice and took the name Sr. Mary Agnetis. Two and one-half years later, Sr. Mary Agnetis pledged her life to God on January 3, 1900, as she pronounced her first vows as a Sister of Notre Dame.
After teaching grade school for three years in the Cleveland and Toledo area, Sr. Agnetis joyfully returned to the province of Covington in 1903 and taught grades 6-8 at the Notre Dame Grade School for the next three years. On January 1, 1905, Sr. Mary Agnetis made her final Profession of Vows in the chapel of the Notre Dame Academy and Covent on 5th Street in downtown Covington, just blocks away from her place of birth.
In 1906, Sr. Agnetis was given the task of starting a high school, to reach beyond grade school and continue the educational opportunities for young ladies. This "task" would define the life of Sr. Agnetis from that point forward and would start her journey as a true servant leader for all of the young women whose lives she touched. Appointed as Instructor and Directress, Sr. Agnetis began with 6 students in the fall of 1906 and built an educational leadership legacy spanning 68 years and beyond. "From the moment Sr. Mary Agnetis started the high school, she became part of the soul of the academy, so dedicated to its growth materially, spiritually and academically, that she grew to become the personification of Notre Dame Academy. Every student who attended NDA from 1906 until well into the 1960s has gone away with a part of Sister's personality, for these – the ideal of the Virgin Mary, the spirituality of vigorously living the Mass, the culture of the classics and the refinement of true Christian womanly living – are as much a part of the academy curriculum as they are of Sr. Mary Agnetis's life."  (KY Post, Jack Wessling, 1960). In 1920, Sister Mary Agnetis was officially appointed as principal of the high school. During the next few years, Sister combined her love for leading and teaching the NDA students with her thirst for personal knowledge and self-improvement, as she became a student herself once again, and received her BA from Xavier University in 1924.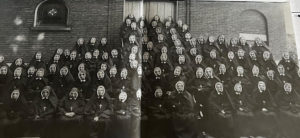 (In 1924, Sr. Mary Agnetis gathered with her fellow sisters at the convent on 5th Street to welcome Mother M. Cecilia, the Superior of the Sisters of Notre Dame, as she officially proclaimed Covington as the newest province for the Sisters of Notre Dame.)
By the early 1920s, under the leadership of Sr. Mary Agnetis, Notre Dame Academy High School   had secured its place as the premier educational facility for young women, a legacy that continues to this day.
In 1923, the high school received full accreditation for high school by the Kentucky Education Association as one of only three accredited Catholic high schools in Kentucky. It received an "A" rating, which the school has maintained up to present time. In 1924, the high school was accepted by the Southern Association of Colleges and High Schools and maintains that affiliation up to present time. In 1938, the high school was accepted as a practice teaching school for Villa Madonna College's secondary education majors, with several instructors in each department certified as "critic teachers".  And, in 1943, the high school received a "Superior School" rating from Southern Association of Colleges and High Schools, the first of many superior ratings received throughout the years.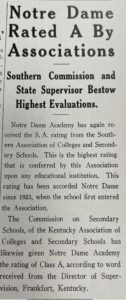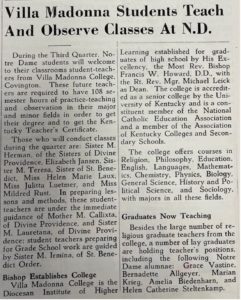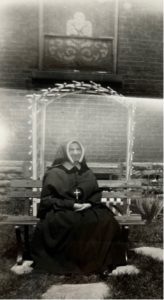 As an educator, Sister Mary Agnetis's interest lay preeminently in forming the young teen-ager into the ideal charming, cultured, Mary-like woman. "Sister has always maintained that her greatest challenge was to so indoctrinate the young mind with the ideals of Mary that a love and admiration for Mary would make them want to imitate her." (Reflections from her Diamond Jubilee)
(Notre Damian story continued)
Being an idealist, Sister would not tolerate any flaw in speech, posture or behavior as evidenced by the following reflections from several graduates: "I still remember my initial week at NDA, the introductory talks which taught us what it meant to be a Notre Dame girl. I cherish the classes in courtesy and womanliness which were the unique legacy of Sr. Mary Agnetis." (Sister Mary Margaret Agnes (Imelda Hemmerle) 1951); "Be lady-like". How many times did we hear that? Was there a day when our cafeteria manners weren't polished by Sister Mary Agnetis? "Don't talk while you are eating; chew slowly, keep your hand in your lap; it's good for you; cut that apple into small pieces." (Sarah Fischer Kennedy, 1959) "Sr. Mary Agnetis, the homeroom and Religion teacher, would walk around the dining room at lunch and watch to see if the girls were using their social skills as to how to cut an orange, use the soup spoon, etc. (Mary Martha Seifert Kaiser, 1959) "A second memory involves Sr. Mary Agnetis and the way she visited the tables in the cafeteria being sure that the milk cup was placed in the corner of the tray to become the "refuse cup". (Marna Meier Zalla, 1958) "I remember Sr. Agnetis and our rules in the cafeteria. She wished each one "hearty appetite" before we ate lunch." (Margie Frommeyer Kaufman, 1958)
Sr. Mary Agnetis was always cognizant that differences of temperament, mentality, aptitude and inclination must be prudently considered when teaching young girls. Under her leadership, the scholastic program at Notre Dame Academy was always arranged to fit the needs of the individual – but once arranged, scholastic achievement was vigorously demanded. "The student body is composed of an interesting variety of human beings, each of whom has her individual character, interests, likes and dislikes, habits, skills, ambitions, dreams and disappointments." Acting on the motto that she had gleaned from her predecessors – "Work with a purpose; do distinctive work" – Sister always demanded that her students analyze their errors and do remedial work immediately. Solid piety, scholarship, love for the domestic virtues and observance of social forms were joined aspects of the intelligent Christian womanhood Sr. Mary Agnetis labored to have the girls achieve. (Reflections from SMA's presentation to an international assembly of ND educators at their Education Institute of 1950)
Deeply religious, Sister nevertheless had always been a progressive woman. Her pupils were prepared for the world. "To help our girls" (she often told faculty members) "we must not only have a great knowledge of our religion, but also a clear understanding of the world and its false maxims. We must be aware of the obstacles they will meet in the world outside their sheltered school." (Sr. Mary Agnetis) Sister strove unceasingly, through a period that witnessed three major world conflicts, to help her students see that "societies and nations, families and individuals, are saved, not by material power or wealth, but through the integrity of character of those who have built their thinking strictly on TRUTH". (Reflections from SMA's presentation to an international assembly of ND educators at their Education Institute of 1950) Long years of teaching did not dim SMA's awareness of the ever-changing "modern". That the faculty members should ever be on the alert to the study of current trends, movements and the spirit of the age in which their young students must live, was one the of the principles by which Sister herself lived. "Radio and television pour torrents of entertainment into millions of homes. All of this is supposed to bring relaxation, diversion and intellectual pleasure to man. Thoughtful people, however, realize that virtually none of these recreations are either refreshing or helpful, but are rather an escape from the realities of life".
(Reflections from SMA's presentation to an international assembly of ND educators at their Education Institute of 1950)
For the growing girl of 13 to 18 years of age, in whom the desire to experience independent choice and self-expression becomes so apparent during her high school years, Sister Mary Agnetis saw the need for the strong influence of personal contact with teachers rather than the pressure of outward rules by which a child is usually influenced. To this end, she championed the idea of small groups, genuine and caring conversations and a family environment whenever possible. And, as is evident through the following quotes, she became the primary example of which all the faculty could emulate: "When I was at Notre Dame, I asked Sr. Agnetis if I could work for my half year tuition because my dad's business went out of business. And she was so nice. I had the auditorium to clean, and there was a candy machine – in the back- and every now and then she would come in and she'd say "Watcha doing?" and all that. Then she would give me a piece of candy. And I just thought- you know- she was so such a wonderful person." (Mary Evelyn Hebbeler, 1934, Commercial);
"Sr. Mary Agnetis' pride in the school and her "young ladies" and her admonishment to always be "true Notre Damians". She instilled in us such pride in ourselves and in our school that I don't think we've ever forgotten it or would do anything to disgrace our school." (Mary Gastrich Duve, 1940);
"Sr. Mary Agnetis was an inspiration to all of the girls. She truly loved all of the girls. She started the "Domestic Squad". It was a good way of helping students to attend the Academy. She was so good to all of us. God love her!" (Jean Nieman Bagnell, 1941); "When boys were picking us up from school, Sr. Agnetis would not allow them to wait outside. One night after choral club practice, Sister had all of the boys inside having a great time. The boys were charmed by her too". (Janet Koesters Frederick, 1942); "In the classroom, Sr. Mary Agnetis would talk about her childhood friend who was the mother of movie star Tyrone Power. Sister said that her friend worried about his "Hollywood lifestyle". (Mary Martha Seifert Kaiser, 1959); "The kindness and understanding shown to all the students by our wonderful teachers, led by Sr. Mary Agnetis. We learned it was an honor and a privilege to be a "Notre Dame girl", one of Our Lady's own" (Mary Huwel Bayless, 1938) "Last but not least – the sweet smile of Sister Mary Agnetis. We all loved her." (Mary Jo Thelen Lemker, 1947). Valuing people, humility, active listening, trust and caring –these traits of a servant leader were incarnate in the life and livelihood of Sr. Mary Agnetis who genuinely cared for each student she met and served.
In 1946, Sister Mary Agnetis retired as principal, but continued teaching Latin, German and Religion. As a teacher, she was fondly remembered for her vivacious and spirited lessons:
"Among my fond memories, Sr. Mary Agnetis ranks high. I can still see her teaching Latin by darting around the room pointing at the window and having us repeat "fenestra, fenestrae", the door "ianua, ianuae". She certainly impressed her Latin students!" (Dorothy Blank Kling, 1939);
"I shall never forget Sr. Mary Agnetis' Latin classes as she acted out "vividly the lives of those famous Romans" (Helen C. Harvey Barbara, 1940); "Sr. Mary Agnetis! I'll always remember our senior Latin class, when Sister showed us how to participate in the Mass (she was way ahead of her time". We learned all of the prayers in Latin and how to translate them". (Mary Lou McGinnis Halpin, 1943); "My favorite memory is of Sr. Mary Agnetis acting out in Latin class all of the battles as she charged across the front of the room blowing a make-believe horn". (Betty Haverbusch, 1948); "Sister Mary Agnetis and her fantastic acting ability made Latin class a daily respite." (Patricia Wittkamp Boyd, 1946)
In 1950, Sr. Mary Agnetis celebrated her Golden Jubilee and was selected as a delegate to the International Education Congress of SNDs at the Generalate in Rome, Italy. There, she presented an impressive paper entitled "The Training of Youth in Social Attitudes and Action".
The content of the paper was not theoretical nor the result of library research but was more of a resume of what SMA lived and taught. "The student body is composed of an interesting variety of human beings, each of whom has her individual character, interests, likes and dislikes, habits skills, ambitions, dreams and disappointments. No child comes into this world already socialized. No matter how bright, every student needs to be socially adjusted… The school is the laboratory where new experiences are provided daily and tests are made almost continuously. The school presents one of the most complex social situations imaginable. In addition to the scholastic pursuits, the students participate in activities designed both for pleasure and business; they associate with teachers and with students from homes representing every walk in like. Consequently, considerable tact and constant adaptability are required of them to adjust themselves effectively." (SMA's presentation to an international assembly of ND educators at their Education Institute of 1950)
While in Rome, Sister was privileged to attend a private audience with Pope Pius XII and was able to speak to the Pope directly.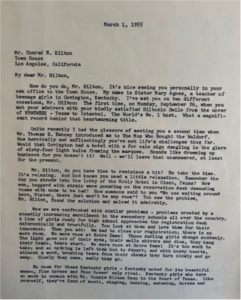 Throughout the early 1950s, Sr, Mary Agnetis began to pursue her dream of a new Notre Dame Academy; it was to be a building with a large campus, free from city noise and grit. On March 1, 1955, Sr. Agnetis penned a letter to Mr. Conrad Hilton (CEO of the Worldwide Hilton Hotel Corporation), which would change the course of Notre Dame Academy forever. Of the hundreds of financial request letters received every year, Sr. Agnetis's evidently caught the interest of Mr. Hilton's secretary who passed on "this special little nun's" unique letter. In his March 9th reply, Mr. Hilton wrote "I received your very interesting letter of March 1st and assure you that I did not look around for the wastebasket when I read your letter. As a matter of fact, I have read it several times and I congratulate you on your talent. I think that I would be willing to employ you either as a salesman or a writer." (letter from Conrad Hilton, March 9, 1955). Although there was no immediate promise of financial support, Mr. Hilton concluded his letter with "…there is not a day passes but that I receive a request such as yours. However, I will pay you the compliment of saying that yours has been the most interesting letter that I have received. You will answer back and say what good does that do you, just to be able to write an interesting letter and get no money, but now you understand  why, so I am not turning you down forever, simply for the present." (letter from Conrad Hilton, March 9, 1955). This initial correspondence set the tone for a very special business correspondence which turned into a personal friendship – a friendship that would last until the death of Sr. Mary Agnetis in 1974. From the beginning, Sister Mary Agnetis spared no words, prayers, medals, pictures or mementos to acquaint Mr. Hilton with the history of Notre Dame Academy, the needs of the school and his importance in turning those dreams into reality. After more than a year of correspondence, the potential business acquaintance had turned into a burgeoning friendship and on March 21, 1956 Conrad Hilton made a personal visit to Covington to finally meet Sr. Mary Agnetis and to view the proposed sight of the new school, saying he wanted to visit "the nun who wrote so beautifully". After concluding several business meetings in Cincinnati, Mr. Hilton and his secretary visited the 5th street campus to finally meet Sr. Agnetis before traveling to the proposed site for the new school. In a letter to the Rev. Mother Mary Vera, Sr. Agnetis recalled her first meeting with Conrad Hilton. "Promptly at ten till three a limousine, such as Covington had never seen before, driven by a liveried chauffeur, pulled up in front of Notre Dame Academy. Mr. Hilton and his secretary, Mrs. Olive Wakeman, alighted and Sr. Mary Xavier admitted them and ushered them into the parlor.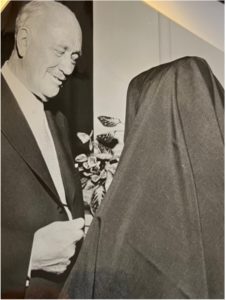 First, I presented myself and then introduced Sr. Mary Mirella, the superior of the house, and Sr. Mary Immacula, the principal. There was something so direct in Mr. Hilton's look and so disarming in his whole manner that one felt wholly at ease in his presence. Getting down to business, he wished to know what kind of building we wanted. He seemed to know the answer from the appearance of the early 18th century surroundings he was now in, because without waiting for an explanation, he said he was most interested in seeing the site for the new building. We asked him for just one more minute in which to meet the rest of the sisters who otherwise would have been dreadfully disappointed. Even though he was noticeably anxious to get to the Heights, he consented with his usual graciousness as though he hadn't another thing on his mind. When we came to the doorway, I introduced him by simply saying "Sisters, this is Mr. Hilton." That exuberantly happy group of smiling sisters applauded with a spontaneity that visibly thrilled the man and his secretary. The sisters said the most pleasant things to him in that minute. This scene added a fresh, new note of joyousness to the afternoon. His happiness seemed to derive from the response he received from those he had made so happy.
Upon arrival at the Heights, we pointed out that from this vantage he could see the Netherland Hilton and the Terrance Hilton (his recent acquisitions). We took the path leading down to the cemetery, up through the apple orchard and farmlands, past barns and  pastures where cows politely stopped chewing cud and stood in mute amazement, where well-rounded porkers looked up in surprise and finally after plowing through a field of 24 in high alfalfa, we arrived at the spot where the new Notre Dame Academy is to rise. Reporters who had followed us to the site, requested a picture of myself and Mr. Hilton surveying the site. He graciously acquiesced but was non-plussed when I explained that it was contrary to  the custom of Notre Dames to have their pictures appear in newspapers. To appease the reporters, Mr. Hilton suggested that I face him with my back to the cameras and he would  pose for a second picture with his secretary and Mrs. Alvin Aldemeyer of the Alumnae Association and her husband."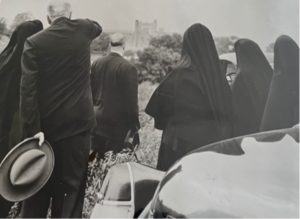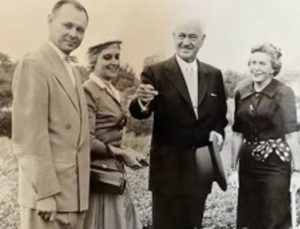 Mr. Hilton left that day promising to help with the funding for the new school and on December 11, 1957 sent a check for $50,000 to help pay for architectural fees. On January 30, 1958, a contract was sent stating the intention of Mr. Conrad Hilton and the Hilton Foundation to contribute $500,000 for the building of the new Notre Dame Academy. That one letter sent among many others in 1955 secured the dreams of Sr. Mary Agnetis and laid the groundwork for the physical building of Notre Dame Academy as we know it today. During the ensuing eight years, Sr. Mary Agnetis and Conrad Hilton exchanged over 300 letters and cards, cementing the rare business colleague / personal friendship that developed between them.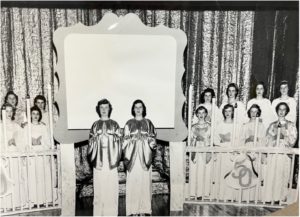 On January 7, 1960 Sr. Mary Agnetis celebrated her 60th year of religious life and teaching career. A month-long celebration of Sisters' life and career ensued. The weekend of January 8-10 was proclaimed "Sr. Mary Agnetis Weekend" at Notre Dame Academy.  Students presented "A Canticle of the Diamond Years", an expression in choral speech, songs and dances drawing parallels between the "Fiat" of our Blessed Lady and that of Sr. Mary Agnetis. The lyrics were drawn from the Book of Wisdom, the Psalms and from the Canticle of Canticles. The pageant was composed by Sr. Mary Josette and the music was written by Sr. Mary St. Clare.
At the end of the program, the main curtain parted to reveal a 23×27 inch framed hand-painted portrait of SMA. The portrait was a gift from Mr. Norman Bush, manager of the Reflex Portrait Studio of the John Shillito Company and his wife Margie. It still hangs today in the entrance foyer to the School.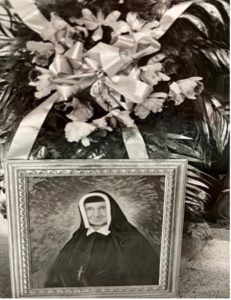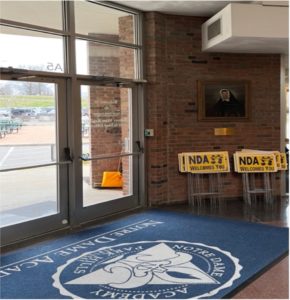 Covington mayor, John J Maloney, presented Sr. Mary Agnetis with a scroll naming January 21 (SMA's feastday) as "Sister Mary Agnetis Day" throughout the city. And Kentucky Governor Bert Combs commissioned SMA as a Kentucky Colonel. Upon the presentation of the commissioning, Governor Combs wrote" Your life has served as a guiding light to many young people, and I know that you derive great happiness and satisfaction in the knowledge that your teachings have been instrumental in shaping the careers and lives of our youth." (January 11, Governor Bert Combs to Sister Mary Agnetis).
On Sunday, January 24th, the Alumnae Association hosted a SiIver Tea and Open House at the 5th Street campus. Over 1000 people were in attendance including charter alumnae members from 1900-1905 and the first official graduate of NDA Louise Keven (1906).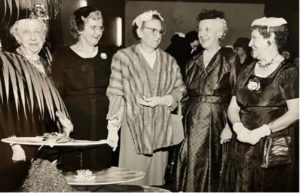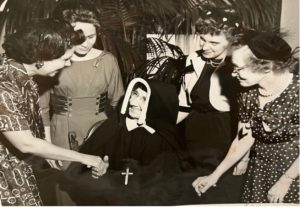 The receiving line lasted for more than 3 hours. "They came in droves – Notre Dame girls of bygone years – and the years rolled back, as Sister greeted her girls, young and old, and laughed and shed a tear or two with them. "(Feb. 1960 Alumnae Newsletter) The alumnae president presented an "enormous" spiritual bouquet to SMA which contained hundreds of individually signed cards indicating Holy Masses, Holy Communions and Rosaries that would be offered for SMA's intentions. All could see and hear in her address to the attendees, how she was affected:
"This is more than a heart can ordinarily take: a carton full of individual, personal spiritual bouquets…..For me to be here this afternoon among my loved girls once more, is just another one of the blessings of this life for which I am deeply grateful. As you passed in groups before me, each one of you seemed to be the ideal woman realized. The light in the sanctuary lamp tells us God is there. The light in your sparkling eyes told me that God was in your heart, and Mary was ever at your side. That feeling came over me and that feeling will never alter. My whole heart goes out to you today, and the delight of my love and admiration for you raises me up and up, so that now, I really don't know if I am young or old! A new Notre Dame? Never! A new building? Yes! Everything here speaks to me of YOU, WONDERFUL YOU! YOU ARE NOTRE DAME! When you come to dedicate the new house on the hillside near Our Lady's Grotto, I beg you to bring with you the atmosphere of the OLD with a long glance at the NEW that must honor Mary and Mary's Son…My dear girls, we have lived and loved together for sixty years, you and I. When this life is done, may we live and love together in heaven!" (quotes from SMA's address to the attendees at the Alumnae Silver Tea and Open House, January 24, 1960)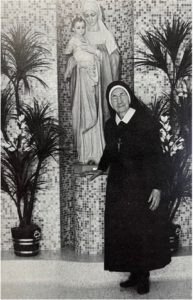 After the 1959-60 academ ic year, Sr. Mary Agnetis officially resigned from teaching, but accepted the position as caretaker for the 5th Street Chapel for the next three year, until the new NDA campus would be opened. In June of 1963, Sr. Mary Agnetis personally packed the chapel linens and sacred vessels for their journey to the new Academy. About the rest of the packing, SMA wrote to Mr. Hilton "Fortunately, I was not included in the all-of-us (packing) category.  I think my considerate superior designedly side-tracked me. Goodbye to friends and things you love is not easy. The old school seems like a magic world to me now, a world where everything is filled with the dreamlike beauty of the past. It is like looking through a family album, a pilgrimage back to happy days, to a vanished world destined to have a high place in God's scheme. (letter dated June 27,1963 from SMA to Conrad Hilton). Embracing the change of which she had dreamed for more than a decade, Sr. Mary Agnetis moved to her new residence on the 4th floor of the new Notre Dame Academy building in mid-October of 1963, the weekend before the students would arrive to take possession of their new building. On March 1,1964, Sr. Mary Agnetis participated in the official dedication of the new school, her dream of a new Notre Dame Academy building finally realized. She continued as the caretaker for the new chapel. "She often walked through the 1st floor hallway on her way the chapel, talking to any student she met, asking the student about her lessons, and if she knew the family, ask how they were doing. In this way, even though she no longer taught, Sr. Agnetis continued her personal attachment to almost all of the students.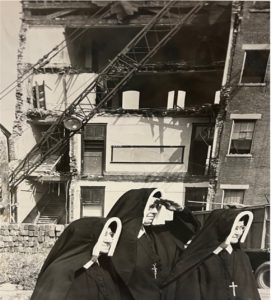 Six months after the dedication of the new building, Sr. Agnetis said a fond farewell to the building on 5th St. The F&G Reality Company purchased the old building and tore it down in August 1964. The razing of the 89-year-old building took about a month and became a parking lot for businesses located on Fifth and Madison. As she wrote to Conrad Hilton, "Your gift, the new Notre Dame Academy, is an alluring place to go to, Prince Conrad, but the old, a dear place to leave behind." (letter from SMA to Conrad Hilton)
In 1965, Sr. Mary Agnetis celebrated her Iron Jubilee, commemorating her 65 years of religious life. The NDA Alumnae Association celebrated her anniversary by establishing the Sister Mary Agnetis Scholarship, in recognition of Sister's rich fulfillment as a "professional witness to Christ, making visible for youth the primacy of the spiritual, the permanency of the cultural and the posture of the intellectual through Mary. Sister has the mind of a teacher, the soul of a poet, the courage of great faith, the heart of a lover." (Quote from Alumnae Assoc. on her 65th Jubilee)
Sr. M. Agnetis expressed her appreciation for the scholarship in the following letter sent to the Alumnae Association: "My words are but stammerings when it comes to express my deep gratitude for the wholly unexpected commemorative testimonial, the Sister Mary Agnetis Scholarship Fund. I can't think of anything to which I would rather have my name attached. Never was a token of affection less needed; yet it is impossible for me not to be, anew, deeply touched by your loyal enthusiasm and the generosity with which this fund was founded. I saw the roster of donors – page upon page and more pages, yet my heart can hold them all in grateful remembrance. Make that fund live "as long as the moon shall be" and I shall thank you eternally. The scholarship fund should be a medium through which the ties of love and gratitude that bound you to Notre Dame will be strengthened, not weakened by time and distance. The ink of the document may fade, the parchment become discolored and worn, but that cherished relic will still eloquently extol the thoughtful minds and kindly hearts of the dear girls who could never do enough for Notre Dame."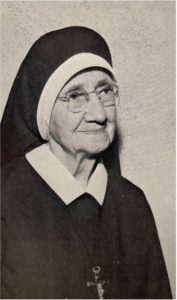 In the spring of 1972, suffering from failing health, Sr. Mary Agnetis moved to the St. Joseph Height's infirmary. Although she struggled both mentally and vocally to accept this move, she relied on her faith in God and His Mother to give her the courage to accept this last assignment.
During this time, Sister devoted her life in prayer for all those with whom she had met throughout her life. In some of the last exchanges of letters between Sister and Conrad Hilton, one can sense the culmination of a friendship and life well led. On January 19, 1972, Sr. Mary Agnetis wrote a short letter, thanking Conrad Hilton for his Christmas letter: "Thank you for you kind letter on January 6, with  a few treasured words with the old ring of friendship which time and years make more precious as we stand on the edge of the Eternal Shore. Dear Conrad, few have had the blessings of so faithful and indulgent a friend for so long a time as I have had with you. When we meet in Heaven we shall have much to say, and, no doubt, to wonder at the way in which earth's puzzles have been worked out for God's greater glory… Pray accept my very great appreciation for all of the kindness you have shown to me." (Sr. Mary Agnetis letter to Conrad Hilton, Jan 19, 1972) And on December 11, Sister wrote "A few months ago I celebrated my 93rd birthday. I'm not panic-stricken at a wrinkle and no better kept secret than my age. I am now reviewing my personal history (and although) it isn't exactly an enchanted journey down memory lane, it is still a happy pilgrimage back to happy days. I think God, dear Conrad, for the privilege of your friendship and that of (your secretary) daring Olive. There would not be a new Notre Dame Academy had Olive filed my first letter (to you) in the waste can. Seventy-two years ago, I took my vows at a solemn midnight ceremony at the beginning of the 19th century. So far, I have no plans for 2001…" (Sr. Mary Agnetis letter to Conrad Hilton, Dec 11, 1972) In response, Mr. Conrad Hilton replied, "I have received this morning your beautiful letter and have read it two or three times. You express yourself (as usual) in such a warm, gracious way that your letters are really a pleasure to read. To tell you the truth, I can still remember the first letter which you wrote to me and I remember Olive giving it to me with the remark that it was one of the most beautiful letters  that she had read asking for money….We finally met you in Covington which was a pleasure and which I have always remembered. Dear Sister, I can hardly believe that you have celebrated your 93rd birthday as I remember seeing you, you were a very young and attractive woman and certainly showed no sign of age. Of course you are not panicked-stricken as your life has been so very worthwhile and you have accomplished a great deal. I am glad to have your friendship and can assure you that you will always have mine and also Olive's. Thank you for your (continued) prayers." (letter from Conrad Hilton to Sr. Mary Agnetis, Dec 19, 1972)
On November 2, 1973, Sr. Mary Agnetis celebrated her 95th birthday, giving her the distinction of being the oldest sister of the 3,600 members of the entire Congregation of Sisters of Notre Dame throughout the world. Five months later, on April 18, 1974, surrounded by numerus sisters who had been keeping prayerful vigil, Sr. Mary Agnetis passed away and entered into her heavenly home. The next morning, Sr. Virginia Ann, principal of NDA, broke the news to faculty and students alike. "Though she served as a Sister of Notre Dame for 75 years, time cannot fairly measure the good works she rendered during her lifetime. Sister's greatest achievement perhaps was the warmth she felt and conveyed to those around her," Sr. Virginia Ann stated in her tribute to Sr. Agnetis as the students gathered to honor her life. "Really Sr. Mary Agnetis is the spirit that is Notre Dame: she devoted her life energies to foster this spirit – devotion to Our Lady, the development of kindness, courtesy and refinement as the expression of the Christian young lady. She devoted her entire life to young girls – especially through teaching. Sister began her teaching career at the old Notre Dame Academy in Covington and eventually went on to the position of principal for the next 26 years. Her dedication was further expressed when she was able to gain a pledge from Conrad Hilton to construct the building we are in today. For most of the students here, Sister is probably remembered best for her personal interest in all students. One of the times that seems to be remembered most is when she joined us for the 10th anniversary of the dedication of this building and sang "You Are My Sunshine" to the whole student body. Almost everyone recalls that Sister Agnetis was elected "Sweetheart of Notre Dame" on Valentine's Day, just three years ago. Let us not forget all that Sr. Mary Agnetis has meant to us. Whatever Sr. Mary Agnetis is remembered for, surely it can be nothing but the best. Her goal was to "praise the Lord and serve Him" – as she once wrote herself. No one can deny that she surely did". (remarks on the passing of Sr Mary Agnetis by Sr. Virginia Ann, April 1974).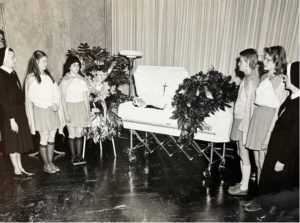 The following Monday, April 22 Sister was laid out in the convent parlor. Standing near the head of her coffin was a magnificent floral array of orchids wired by Conrad Hilton. Two students dressed in uniform and blue and gold honor capes and a faculty member stood guard each half hour that afternoon until the time for the celebration of the Holy Mass at 7:30 at St. Agnes Church.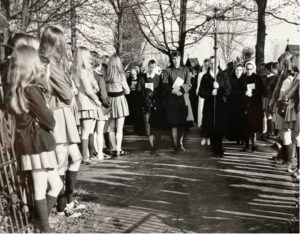 The next morning, the entire student body and the faculty of Notre Dame Academy attended the burial service.
At 8:20 am the students began to file past the open casket and then formed a guard of honor from the front door of the school to the gate of the cemetery located behind St. Joseph Heights. Through this, the coffin passed as the entire group recited the Rosary. Ceremonies at the grave site concluded with the hymn, "Alleluia, Alleluia, the strife is o'er, the battle won."
Sister Mary Agnetis was laid to rest on a small hillside facing the building for which she had long labored, knowing that her dream of a new Notre Dame Academy had become a reality and would continue to educate young women forever to espouse the qualities of a servant leader in which she had laid the groundwork.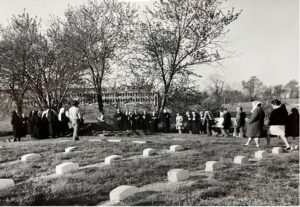 Perhaps the most fitting tribute to Sr. Mary Agnetis was a reflection written by senior editor of The Gavel on the occasion of Sister's Diamond Celebration in 1960.
"Notre Dame Academy has always striven  for gracious, Christian women. She has built her ideals around the model of femininity, Mary Immaculate. Mary is the core, the very origin of Notre Dame. She projects Mary's purity, her humility, her obedience through her graduates into the world.
The spirit of Notre Dame Academy is, furthermore, a spirit of bubbling friendliness. You can perceive it in the gay laughter and cheery smiles all around you. We are just one big happy family.
The spirit of Notre Dame Academy is a spirit of oneness. I am impressed with this fact especially when the whole school prays together for a sick student or relative.
The spirit of Notre Dame Academy is activity. Why, there is never a time when the Blue and Gold isn't planning a major performance. Activity also takes the form of work. Never let it be said that we don't work! All good things come to an end, but work seems eternal.
Where does all of this spirit come from? Maybe many of us don't realize it – I myself did not until recently – that every tradition that we hold dear, every compliment made to a graduate, every element which makes school life mean so much to us, has found its impetus in the heart of Sister Mary Agnetis. Way back in 1906, Notre Dame Academy (the high school) came into existence. Sister became its first principal. If you study Sr. Mary Agnetis closely, you can see that she is the embodiment of the spirit of Notre Dame Academy. Just as a diamond picks up light and beautifully throws the glimmering rays out into the darkness, so has Sr. Mary Agnetis caught the virtues of Our Lady and thrown them out into the dark world through her 2,700 students – glistening rays of womanhood in the long white line (of graduates). Sister Mary Agnetis will live forever in the heart of Notre Dame Academy because she IS the HEART of Notre Dame Academy." (The Gavel, Winter, 1959-60)