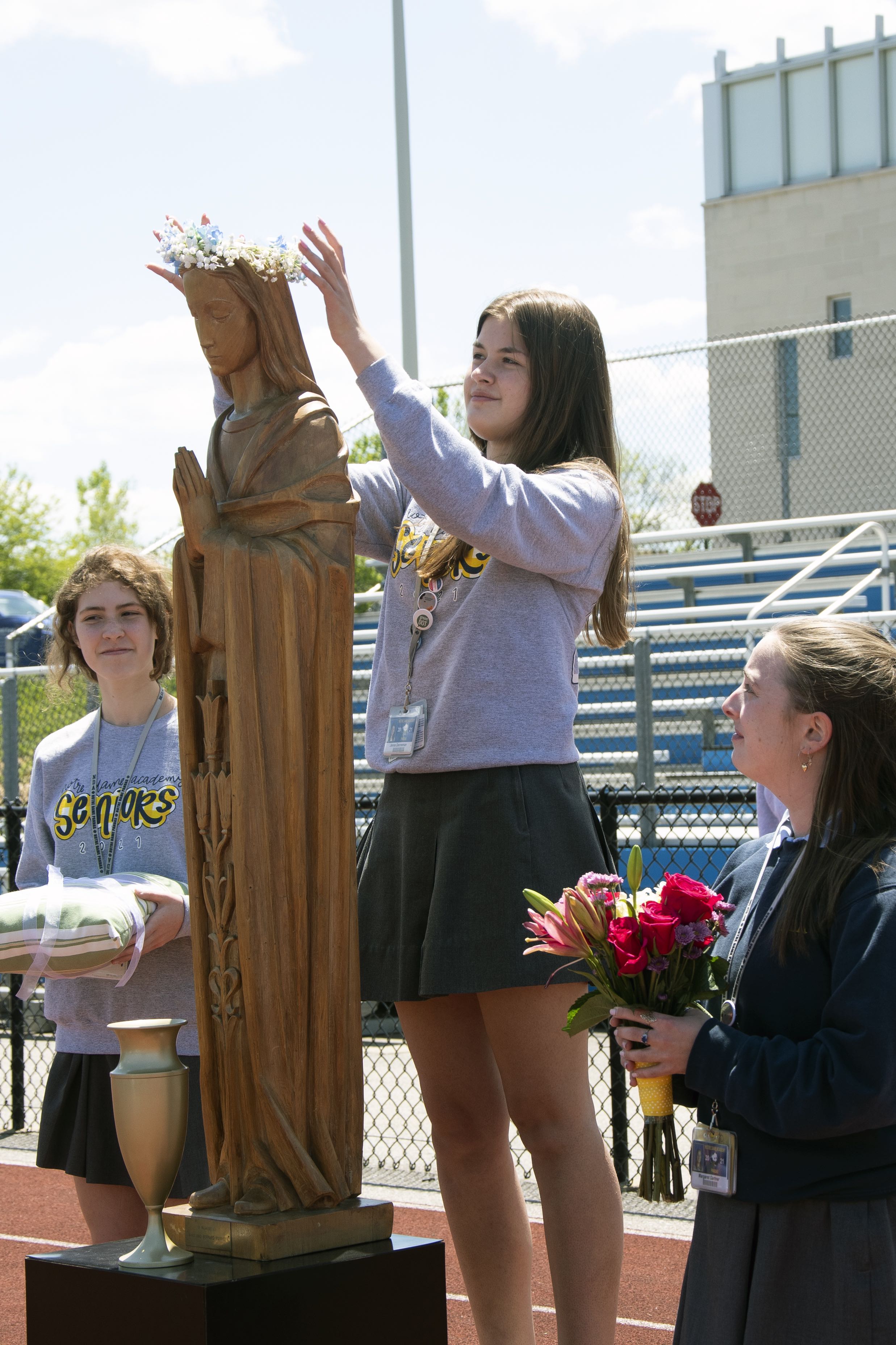 Notre Dame Academy celebrated its annual May Crowning ceremony on Thursday, May 13. It was a special day to honor NDA's patroness, Mary, and to reflect on its educational mission as a school dedicated to Mary.
As is the NDA tradition, the honor of Crowning May goes to a senior. All seniors are invited to submit a reflection about the Blessed Mother and how they have viewed her as a role model. This year the honor of crowning Mary went to Jenna Danneman with the honor of carrying Mary's crown in procession going to Rachel Young and the honor of carrying flowers for Mary going to Margaret Gartner.
All three of these young women showed great devotion and appreciation for the Blessed Mother in their reflections. You can read Jenna Danneman's reflection below.
Jenna Danneman
Marian Essay 2021
On December 12, 2002, a scared mother was lying in her hospital bed, eagerly waiting for news of her unborn twins after her doctor's appointment. She sat, clutching her Our Lady of Guadalupe medal around her neck when she was delivered the news that she was to give birth to her children due to one of them having complications in his kidneys. Tears struck her eyes, but she knew that the Blessed Mother had her children in her care, and would be with them, no matter the circumstance.
Later that day, the mother gave birth to two premature babies, one rushed to the operating room, the other to the NICU. Through time came healing, and now those twins are 18 years old, attending college next year.
I am blessed to say that this is the story of my mom, and the recovery of my twin brother and me. Jacob had a 15% chance of living, and despite the odds, he overcame the obstacles, playing three sports in high school, and continuing his baseball career in college. Ironically we were born on the feast day of Our Lady of Guadalupe, who we later found out is the patron saint of the unborn.
Through each obstacle I face, I remember the honor and grace my brother and I were given to have a chance at life, and I give thanks to God everyday for that.
My devotion to Mary started the day I was born, and has continued to flourish throughout my life. From seeing her in the strong women I see each day, to going to a school dedicated in her honor, I know how integral she is to me, and my mission as a woman in the faith.
Three words that come to my mind when I think of Mary is strength, faith, and loyalty. When Mary was told to become the mother of Jesus, she said yes, with no hesitation. Her strength to persevere, and handle the scrutiny of others who did not understand her situation is an example of a woman I want to be throughout my life. She had such faith, and knew that her son was meant to change the world, and her loyalty to God was unwavering.
Mary revealing herself to others throughout time has been something that has left me in awe. From Guadalupe, to Fatima, even when she was no longer on earth, she made her presence known, and each miracle gives me more reasons to believe in her goodness and grace. She is as delicate as a rose, but has the courage of a lion. Her vocation to always say yes to God is what I hope I can do in my future as well. I know there are always moments when I struggle to have patience, and feel as if I cannot push forward anymore, but Mary has always got my back. She held Jesus in her arms, and raised the Son of God. By this example she has shown me that anything is possible, and with great faith comes the grace to do the unimaginable.
I see the kindness of Mary through nature, and in children, whom she has often revealed herself to. Her joy for life, and purity is so beautiful, and allows me to understand what a life dedicated to the faith can look like, and how much happiness can come from having a relationship with God. I feel she should be given this honor because ultimately Mary has saved my life.
I feel her presence every day, and ask through her intercession to live a life more like her son. The Blessed Mother is a role model to all women, and being able to help with the crowning of her would be such an honor. She ultimately is the queen, and is the epitome of strength. Everyday I thank the Blessed Mother for showing me little miracles each day, like a smile on a child's face, or a wagging tail of a cute puppy. I know her kindness is brought forth in nature, and I can feel her presence within the goodness of the world. She was chosen out of all the women in the world to raise Jesus Christ, and I am in awe everyday of how amazing that truly is. God always had a plan for her to do great things, and I feel that by her example, every one of us has that same opportunity as well. It may not be to raise the Messiah, but I think through the small acts we do each day, little pieces of Mary are brought to life by us, and her presence is made known on Earth always.