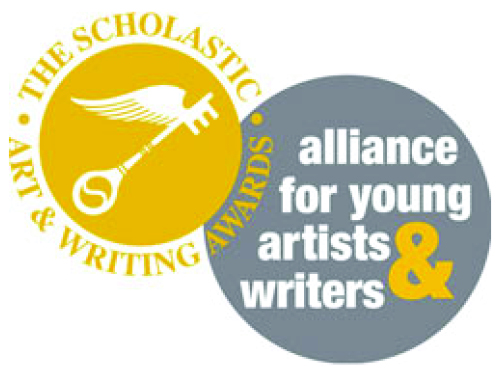 Congratulations to our very talented young writers who recently received 2 National Silver Keys, 25 Gold Keys, 55 Silver Keys and 57 Honorable Mentions in the Scholastic Art and Writing Competition. That is a total of 139 Scholastic Art and Writing Awards!
Two NDA students were named National Silver Medalists in the Scholastic Writing Competition. They are junior Kendall Crawford, Ms. Emiy Sampson's student and sophomore Katherine Horsford, Mrs. Linda Bricking's student. Kendall won for her poem, "The Demise of Eve," and Katherine for her humor piece, "Holden Caulfield Analyzes Facebook." These two talented writers are invited to NYC to receive their awards.
"The power of words our girls command speaks for itself," said NDA English teacher and English Department Chair Linda Bricking.
"Congratulations to our students as well as our English department on the significant number of awards received," said NDA Principal Mr. Jack VonHandorf. "In addition to the number of awards, it is quite impressive that all of our English teachers had winners this year."

Sammie Kleier
Maribeth Stafford (2)
Abbie Guard
Abby Bruns (2)
Katherine Horsford (2) *National Silver Key Medalist
Erin Miller
Fiona Blackburn
Kathleen Rice
Christin Sherrard
Paige Brunson
Amanda Smith
Kendall Crawford (2) *National Silver Medalist
Claire Lonneman
Lauren Reinersman
Rikki Buchberger (2)
Lauren Darpel (2)
Andrea Davis
Olivia Ossege
Kate Williams

Abbie Guard
Katelyn Egbers
Katharine Denby
Taylor Eiting
Caroline Jackson
Anna Klear
Clair Lange
Rachel Massie
Katelyn Noll
Bridgette Stegman
Maddie Wilhoite (2)
Ming Waih Wong Burgess
Laura Dinn
Fiona Blackburn (3)
Madison Jones (2)
Kathleen Rice
Grace Harmeling
Elizabeth Lonneman
Georgia Papakirk
Emily Rice
Dymond Robinson
Emma Duerstock
Abby Kelly
Julia Mathew
Catherine Meadows (2)
Kylie Moellering
Paige Montfort (3)
Claire Morgan (2)
Claire Morgan
Jackie Noll (2)
Meg Whelan (2)
Rikki Buchberger
Lauren Darpel
Mikayla Rankin
Malea Rolfsen
Maggie Brinkman
Leah Darpel
Savanna Hasenkamp (2)
Mollie Seibert (2)
Sarah Williams

Abby Bricking
Morgan Weltzer
Abby Couch
Maria Danneman
Clara Davenport
Taylor Eiting
Lindsey Foust
Emilie Guerin
Lauren Judy
Anna Klear
Clair Lange
Iris Rokvic
Sophie Skinner
Carolynn Zeis
Sally Bishop
Laura Dinn
Fiona Blackburn
Madison Jones (2)
Christin Sherrard
Lauren Bracken
Olivia Cooney
Sophia Daniel
Camryn Diebold
Katie Hellmann
Ellie Kathman
Lauren Lawler
Annabelle Lee
Anne Simendinger
Ellie Vandergriff
Emily Buten (2)
Emily Buten
Sarah Draud
Emma Duerstock
Olivia Hollman
Julia James
Abby Kelly
Josephine Meyer-Hogan (2)
Kylie Moellering (2)
Claire Morgan
Lauren Reinersman
Amanda Sauer
Lydia Watson
Meg Whelan
Kathleen Schawe
Lauren Darpel (2)
Andrea Davis
Maggie Brinkman
Leah Darpel
Tia Browning
Emma Browning (2)
Anna Resing
Kate Williams