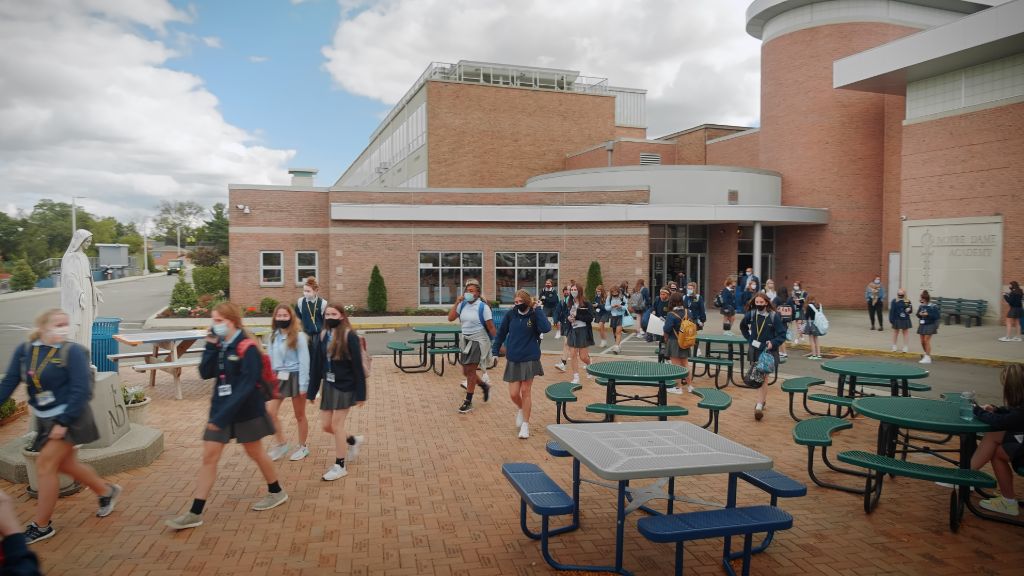 Admissions
High School Placement Test (HSPT)
The High School Placement Test for incoming freshmen is administered in December and the test date is determined by the Diocesan School Office. This year the HSPT is scheduled for December 11, 2021, from 9:00 a.m. – 12:00 p.m. at Notre Dame Academy. All incoming freshmen are required to take the test.
Registration materials for the HSPT
You can register for the HSPT by returning the HSPT Registration Form along with the fee of $20.00 to NDA by the registration deadline of December 3, 2021. 
The HSPT is one tool used to determine a student's level of preparation for high school and the appropriate placement for her in freshman courses. We also consult the grade schools to assist in this process. Our goal is to achieve the best placement to challenge and support each student's academic experience at NDA.
Please note: Priority for freshman academic scholarships will be given to students who take the HSPT at Notre Dame Academy.
NDA offers High School Placement Test Prep Workshops to help students learn test-taking strategies for success on the HSPT. Here is an information flyer for this year's workshop: 2021 HSPT Workshop FLYER . Here is the Registration Form for the Workshops: 2020 21 HSPT Workshop Reg Form 2021 HSPT Workshop Reg Form .
Students do not need to bring any testing materials for the HSPT, as we will supply everything they need. Please note that calculators may not be used for the HSPT. Students may bring a small snack and a drink in a closed container to eat during their break.
Students with diagnosed learning disabilities who qualify for extended testing time should contact the NDA Admissions Office at 859-292-1829 to arrange for the extended time.
On the day of the test, students should arrive at 8:45 a.m. Parents are invited to walk in with their daughter to check in for the test and then students will be directed to a classroom.
If the test is taken at another location the results can be sent to Notre Dame Academy. If a prospective student has not taken the test but is interested in attending NDA, contact the Admissions Office at (859) 292-1829.
If you have any questions regarding the HSPT or anything else relating to your daughter's admission to Notre Dame Academy, please feel free to contact us at any time. We look forward to welcoming you and your daughter to the NDA community.
Admissions Office
Phone: (859) 292-1829
Fax: (859) 292-7722
Email: caccavarik@ndapandas.org
News
Explore the latest Panda news and events