2023 honorees
Congratulations to our 22nd Annual Women Making A Difference Recipients
Three Notre Dame Academy alumnae along with Bob and Diane Hoffer were honored at the annual Women Making a Difference recognition award luncheon on Thursday, March 2, 2023. The Women Making A Difference honorees for this year's were: Sister Marie Rose Messingschlager, CDP 1962, Emily Melching Michels 1988 and Erin Kern Timmerding 1990. Also, Bob and Diane Hoffer received the Sister Mary Reina Arlinghaus Award.
The Women Making A Difference award program recognizes Notre Dame Academy alumnae who have made significant contributions to their families and their communities through service, professional and philanthropic efforts. It honors these women for living out NDA's proud heritage and for the difference they continue to make in the world. The luncheon also provides much needed funds for tuition assistance at Notre Dame Academy.
Click HERE to nominate an alumna for the 2024 Women Making A Difference award or contact the Notre Dame Academy Advancement Department at 859.292.7729 for more information.
2023 WMAD RECIPIENT
Sister Marie Rose Messingschlager, CDP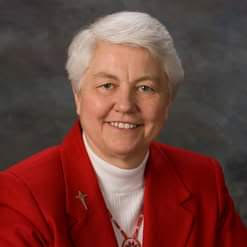 Sister Marie Rose Messingschlager, class of 1962, is an amazing friend and a humble servant leader who is best know for her lifetime ministry among Native American peoples. 
Sister Marie Rose has been a Sister of Divine Providence for over 50 years, most of those years working with Native American communities. From an early age, Sister Marie Rose had a special interest in the American Indian and wrote various research papers on the plight of Native Americans.
Before beginning full time ministry among the Native Americans Sister Marie Rose graduated from the Gregorian University in Rome with  a Litcentiate Degree in Pastoral Missiology. Sister began her full time ministry among the Navajo in Arizona and then among the Lakota Sioux on the Pine Ridge Reservation in South Dakota. From there she moved to Minnesota and became the first Diocesan Director of Native American Ministry for the Diocese of Duluth. As Diocesan Director she traveled the 22,354 square miles of the diocese to minister among the Anishinabe (Ojibwa/Chippewa) sometimes as the only "pastor" many Natives encountered. In her work, Sister Marie Rose helped lead "Kateri Circles", spoke in schools, gave days of recollection and sponsored special Masses incorporating a great deal of Native American culture such as the use of the drum and incensing with one or more of their sacred medicines. Sister Marie Rose also reached out to various Native Americans living in Duluth, many of whom fell between the cracks in the city. 
From Duluth Sister Marie Rose returned to her beginnings in the Diocese of Gallup, but this time ministering among the Natives of the Acoma Pueblo in New Mexico. Presently Sister finds herself back in South Dakota ministering on the Rosebud Reservation among the LAkota Sioux. There she continues to walk the Sacred Journey of life immersed in Native American Spirituality. 
Sister has, and continues to serve on various Boards relating to Native Ministry within our country. Through her life of service to Native Americans, Sister Marie Rose is truly a woman making a difference in the world. 
2023 WMAD Recipient
Emily Melching Michels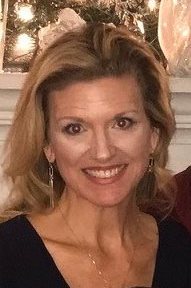 Emily Melching Michels, class of 1988, is an inspiration and a beautiful example of what Notre Dame Academy exemplifies; faith, charity and strength of character. 

Emily's path has not always been an easy one, yet she continues to move forward putting her faith in God and leading by example. 
Emily and her husband John were blessed with their son Drew in 2006. At the age of four, Drew was diagnosed with mild/moderate autism. As devastating as the diagnosis was, Emily and John knew that Drew was a gift from God and considering how severely affected other children with autism can be, they felt truly blessed to be Drew's parents. Following Drew's diagnosis, Emily immediately began researching and providing every available resource and therapy for Drew to help him develop to the best of his abilities. Through her research, Emily realized that families with autistic children require an exhausting number of resources to provide services for their children. 
In order to help these families, Emily and John founded Drew's Puzzle Piece and established the "Autism Awareness JV Baseball Tournament" to raise money for various autism charities. Their hope was to raise $1000. They exceeded that humble goal by $10,000 in their first year and since that time, they have raised over $150,000. In 2020 Emily and John decided to shift their focus to directly helping families in the Greater Cincinnati area by establishing a grant process. Through these grants, they provide for things such as iPads for communication, safety and therapy equipment and therapy services like ABA, OT and Speech. Their first event in November 2021 was incredibly successful and their next Action for Autism will be held on March 11, 2023. 
Emily has embraced what she was taught by her parents and her Catholic education and has turned a difficult and challenging situation into something beautiful to give back to families with children experiencing severe forms of autism. Due to her strong faith, she sees the hand of God in each step along the way and she works hard to share her blessings. Emily is truly a woman making a difference. 
2023 WMAD Recipient
Erin Kern Timmerding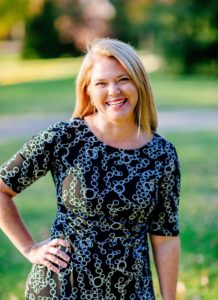 Erin Kern Timmerding, class of 1990, exemplifies the vision of Notre Dame Academy in every aspect of her life. A woman known for her grace, faith, strength and enduring love, Erin has been making a difference in the lives of others from a very early age. If you asked her lifelong friends and family what sets Erin apart, they would say that it is her smile, her passion for leaving a situation better than she found it and her eternal optimism. 

Erin's drive for excellence and commitment to others started at a young age. As a student at Notre Dame Academy, Erin was active in Student Council and many other clubs and helped set a positive, cheerful tone in all that she did. Erin has carried that call to action into her adult life in both her profession and in an extensive list of volunteer work in which she engages. 
Erin is a role model and a passionate supporter of women. In her role as a Wealth Management Advisor, Erin has advised countless women on their finances helping them develop a sound plan for retirement and making them confident in their financial decision. She is caring, empathetic and a great listener, always putting the needs of others ahead of her own. As an advocate for financial literacy, Erin is a servant leader who applies her financial expertise to support her community and other young women. 
Erin's six children are her primary focus in life. She supports them at home and has a vested interest in the schools they attend. Erin expertly manages her time so that she never misses an important moment with her children. 
Experiencing a tragic 2017 with the death of her beloved husband Kevin and adoring mother just a few months later, Erin has managed to transform her grief into shaping the lives of others. She has taken the grief and coupled it with her drive to create a ful and meaningful life and channeled it all into something positive for those around her. 
Through her inspiration to those around her, her unwavering love, support and guidance to her six children and her ability to give back to a community that, as she would day, has given so much, Erin is truly a women making a difference in the world. 
2023 Sister Mary REina Arlinghaus Award Recipient
Bob and Diane Hoffer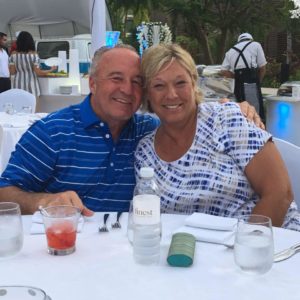 Bob and Diane Hoffer have touched the lives of many over the years through their tireless dedication to serving others. They will be presented the Sister Mary Reina Arlinghaus Award at the 2023 Women Making A Difference luncheon. The Sister Mary Reina Arlinghaus Award was created in 2010 to honor individuals or couples who exemplify the mission of Notre Dame Academy through their service, community involvement and philanthropic endeavors. Former recipients of the award are Robert Stevens, Richard and Jeanne-Marie Tapke, Bill and Sue Butler, Sister Mary Rita Geoppinger, SND, Mary Brown and Mike and Beth Schuh '77 Dempsey. 
Our Distinguished Past Honorees
Sr. Mary Reina Arlinghaus Award Recipients
Mr. Robert Stevens – 2010 
Mr. and Mrs. Richard and Jeanne-Marie Tapke – 2013
Mr. and Mrs. William and Sue Butler- 2016
Sr. Mary Rita Geoppinger, SND- 2017
Mrs. Mary Brown- 2018
Mr. and Mrs. Mike and Beth Schuh Dempsey '77-2022
Mr. and Mrs. Bob and Diane Hoffer