Registration for Alumnae Dinner Theater is now closed!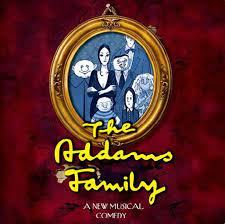 Alumnae Dinner Theater 2022
The Addams Family - Wednesday, April 6
We are looking forward to this year's Alumnae Dinner Theater featuring "The Addams Family" musical comedy.
Show description: Gomez and Morticia's daughter Wednesday begins to fall in love with a seemingly respectable and ordinary young man. Pugsley and Grandma begin to scheme as the family discovers her romance and Uncle Fester finds a love of his own. Everything will change on the dreadful night the Addams host a dinner for Wednesday's boyfriend and his "normal" family. What could go wrong? 
Dinner will be served promptly at 5:30 p.m. in NDA's Auditorium, followed by the performance at 7:00 p.m. in the Frances K. Carlisle Theater.
Registration deadline was March 30, 2022 and is now closed.
There is no news at this time.