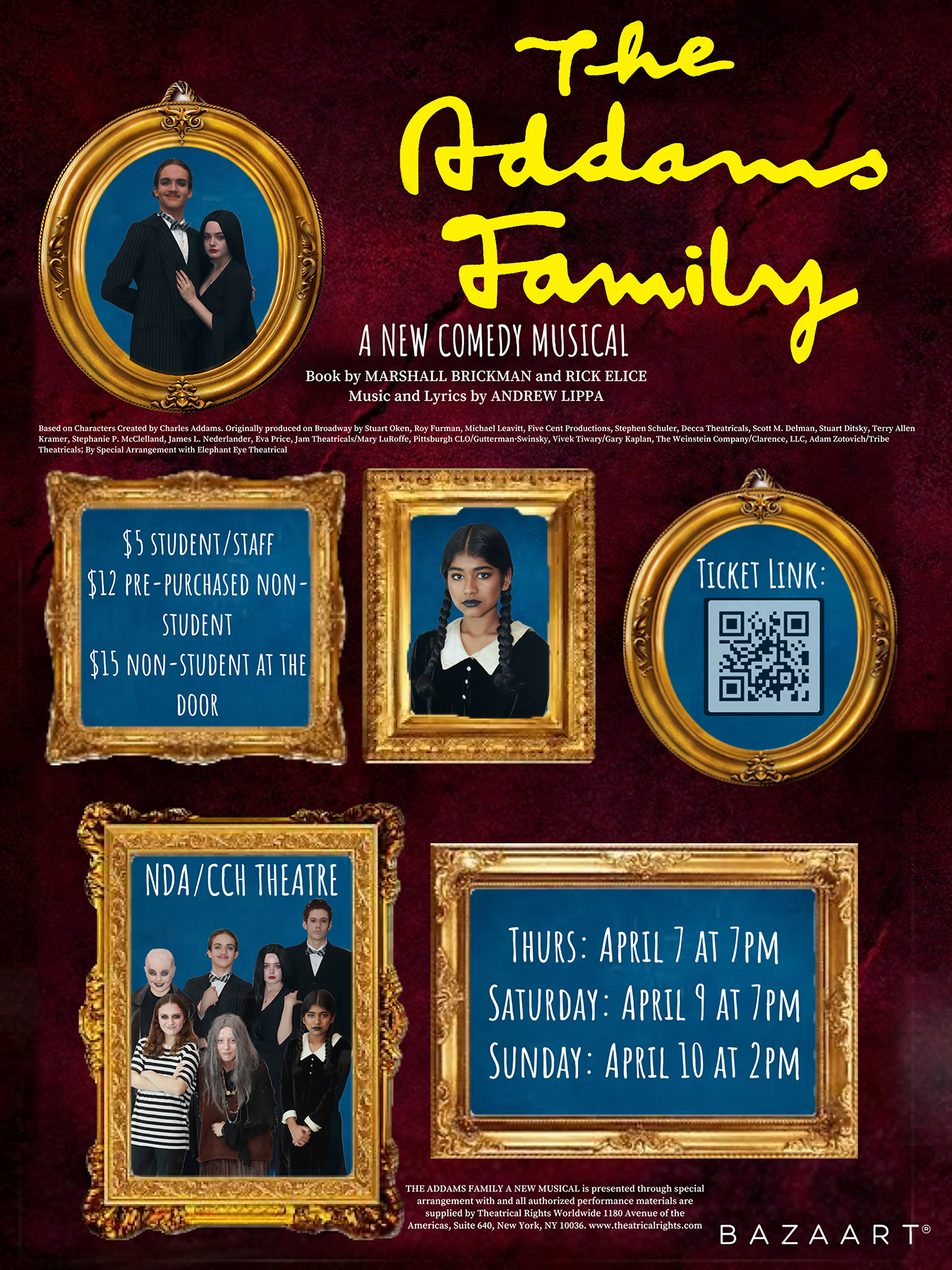 NDA/CCH Theatre Department Presents
Addams Family the Musical
A musical comedy, embracing every father's nightmare! Wednesday Addams, known for her love of darkness, has fallen in love with a sweet man from a seemingly respectable and ordinary family. As Wednesday falls in love, family members living and dead begin to find out, forcing Gomez, her father, to keep a secret from his love, Morticia. Meanwhile, Pugsley and Grandma scheme, and Uncle Fester relates by finding a love of his own. 
Everything will change on the dreadful night the Addams host a dinner for Wednesday's boyfriend and his 'normal' family. What could go wrong?
SHOW DATES/TIMES:
Thursday, April 7th @ 7pm*
NO SHOW FRIDAY
Saturday, April 9th @ 7pm
Sunday, April 10th @ 2pm
*Reminder Opening night will be THURSDAY, because we do NOT have a Friday night show due to CovCath's prom.
During this production of Addams Family, the NDA/CCH Theatre Department 
will be collecting monetary and supply donations for The Carnegie.
 The Carnegie, located in Covington, is dedicated to its mission of "Connecting people through enriching arts education, exceptional theatre and unique gallery exhibitions." We feel passionate about giving back to The Carnegie, because this organization makes a huge impact on our local community by providing arts education to students of all ages, including current and past students and theatre staff of NDA and CCH. The Carnegie has made a difference for countless lives in our community. 
Please consider making a monetary donation on the ticket form, cash donation at the show, and/or drop off the following supplies at the show:
 scissors, glue sticks, markers, sharpies, staplers, staples, scotch tape, duct tape, watercolor pencils, colored pencils, paint brushes any size, and bandaids. 
Notre Dame Academy Theater Presents:
William Shakespeare's MACBETH, October 2020
Three witches tell the Scottish general Macbeth that he will be King of Scotland. Encouraged by his wife, Macbeth kills the king, becomes the new king, and kills more people out of paranoia. Civil war erupts to overthrow Macbeth, resulting in more death.
News
Explore the latest Panda news and events