SND July 4th Festival

Jesuit Spiritual Center – Ignite Internship Program



The Jesuit Spiritual Center in Milford, OH is currently accepting applications to our Ignite Internship program. This is full-time paid position where young adults work as members of the Youth Ministry team and live in community on the grounds of the Center in the recently renovated historic Rock House.

The Ignite Internship's primary focus is youth retreat ministry. Interns develop a variety of skills including planning, preparation, facilitating and evaluating retreats; facilitating small and large groups that includes faith sharing and personal witness; developing public speaking and multi-media presentation skills; working in music ministry and gaining practical business experiences. Additionally, they learn the inner workings of a small non-profit organization. Attached is a trifold brochure of our Ignite Internship. If you know someone who may be interested, please have them apply or personally contact me. Applications and further information can be found at www.jesuitspiritualcenter.com/internship.
Position Available at Holy Trinity School
Holy Trinity School a K-8 school located in Bellevue KY, is seeking to fill the position of an office secretary. This position serves as a dual role as the main office secretary of the school and also as the administrative assistant to the principal. Job responsibilities include: keeping school records to date, answering phone calls and greeting visitors to the school, daily and weekly communication to the parents and guardians, and projects as designated by the principal. Requirements of the job include excellent written and verbal skills, a high degree of multitasking and time management, computer proficiency and the ability to learn new systems. Must be Virtus trained before approval of hire. All interested parties should send their resume and references to Mrs. Katie Jacobs, Principal at principal@holytrinity-school.org.

Position Available at St. Joseph Heights

The Sisters of Notre Dame are currently hiring a Front Desk Receptionist for Fridays from 8:00 a.m.-3:15 p.m. This role is responsible for answering incoming calls, taking messages as necessary, greeting visitors and performing other tasks as assigned. To apply for this position, please send your resume to our HR department at humanresources@sndky.org.
Position Open for Parish Office Secretary
St. Augustine Parish in Covington, KY (www.staugustines.net) is seeking to identify qualified, actively practicing Roman Catholic candidates for the part-time (Monday – Friday; 9:00AM – 1:00PM) position of Parish Office Secretary. The responsibilities of this position will include management of the parish calendar and the database of 375 families, sacramental record keeping, tracking of Mass offerings, editing the bulletin, word processing, and telephones. Interested candidates can send a letter of interest, simple resume including references with email addresses, and compensation history to Stephen Koplyay at skoplyay@covdio.org.
Kenton County School District Recruiting Bus Drivers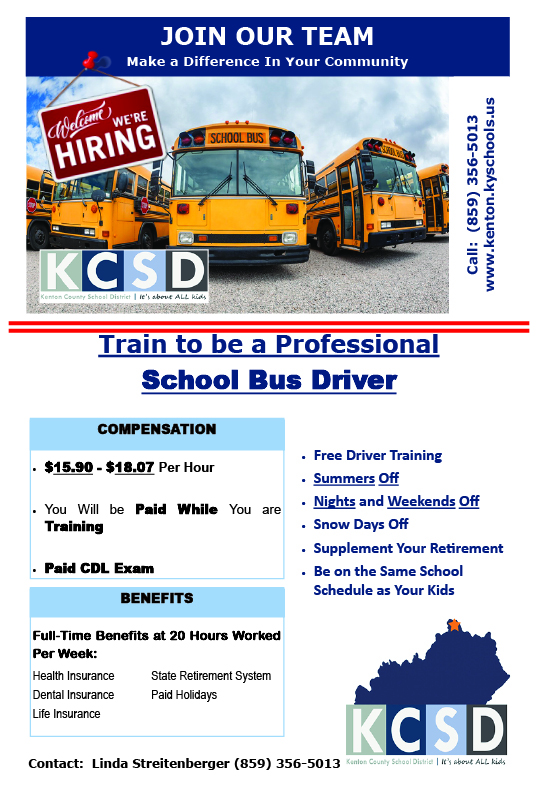 Part-time School Cafeteria Positions

Part-time School Cafeteria Positions – St. Augustine, Covington, School Cafeteria is in need of a part-time staff member from 10:00 a.m. to 2:00 p.m. Monday through Friday during the school year. Duties include food preparation, serving, daily cleanup, helping with deliveries, and other tasks as needed. St. Agnes, Ft. Wright, School Cafeteria is in need of a part-time dishwasher for three hours per day, Monday through Friday during the school year. Candidates interested in either or both positions may contact Diocesan School Food Service Director Jackie Kaiser at jkaiser@covdio.org, or call 859-392-1536.
2020 U.S. Census Employment Opportunities

In advance of the 2020 Census, the U.S. Census Bureau is recruiting hundreds of thousands of people for temporary jobs across the United States. Temporary census positions offer the perfect opportunity to earn extra money while helping your community. Most positions will last several weeks and feature competitive wages, weekly paychecks, flexible hours (evenings/weekends), and paid training. Pay rates vary by county and state, but for Kenton county it's $18.50 per hour plus $0.58 per mile. For more information or to apply visit www.2020census.gov/jobs.